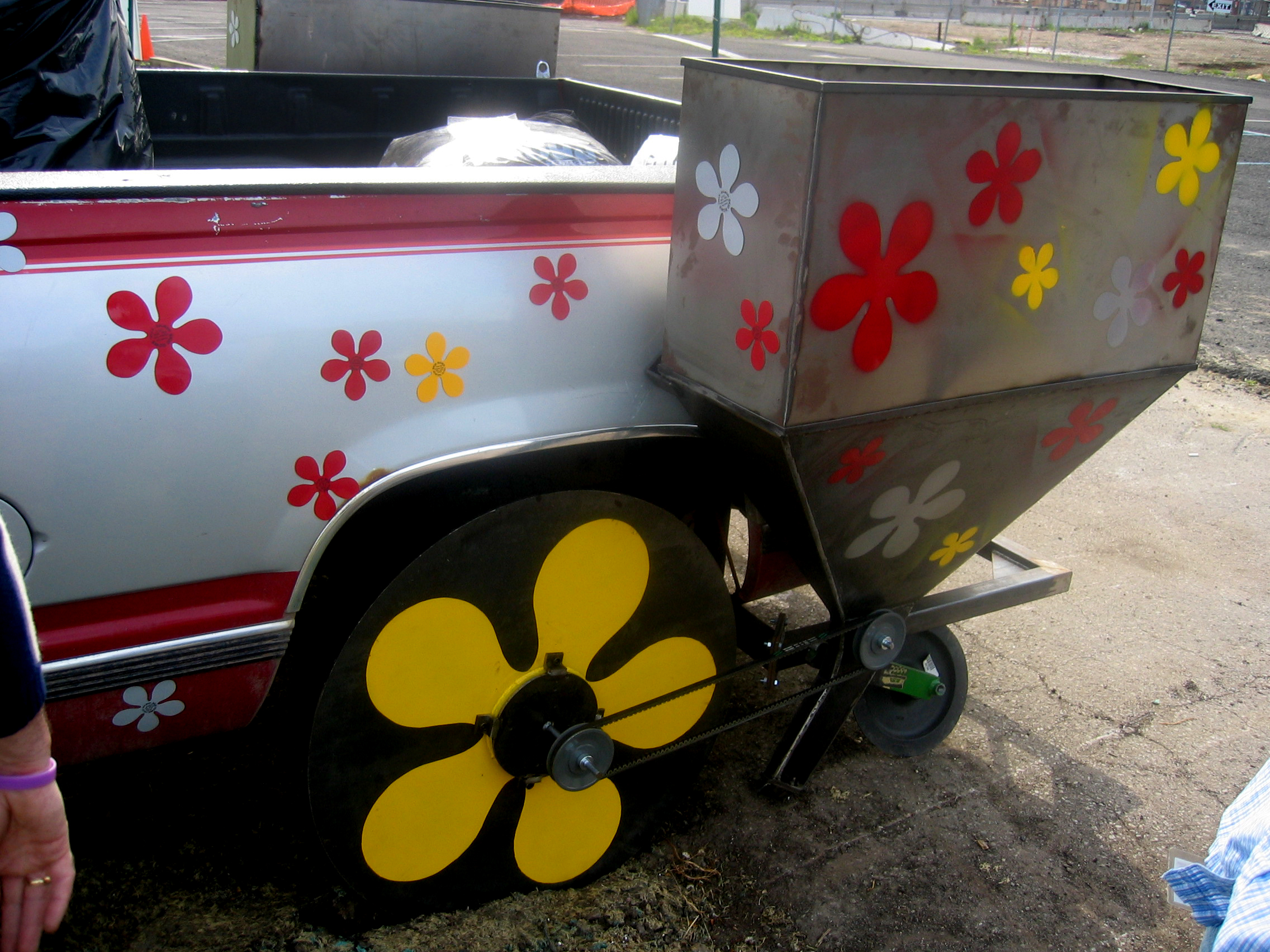 Skid Rows I & II
New York, NY, USA
CLIENT Queens Museum of Art and Mildred's Lane / SIZE 2 acres / STATUS Skid Row 1 completed 2005, Skid Row II completed 2008 / DESIGN TEAM Balmori Associates, Brian Tolle Studio
Skid Rows I was a winning entry of the Artists Gardens competition and exhibition organized by the Queens Art Museum in 2005 as part of a large-scale survey of contemporary artist gardens, Down the Garden Path: The Artist's Garden After Modernism.
Skid Rows is both a garden and an artistic process. Diana Balmori and artist Brian Tolle careened around a grassy, two-acre expanse of the Queens Botanical Garden, doing doughnuts in a red Chevy pickup decorated with flower decals. With a custom-made trailer attached to the rear wheels, the truck inscribed circles in the earth while releasing yellow tickseed and red poppy seeds. This revolutionary method of low-impact cultivation called direct sowing challenges traditional planting techniques which tend to disturb the soil's essential water and nutrient-retaining capabilities. Skid Rows is a hybrid performance and earthwork that created an unusual flower garden in the form of a two-acre drawing.
On May 24, 2008 Balmori Associates and Brian Tolle collaborated on Skid Rows II to celebrate the grand opening of Mildred's Lane, an Artists' Colony in Beach Lake, Pennsylvania. Transformed into a hybrid plow and seeder, the truck inscribed circles into the earth while simultaneously releasing sunflower and cosmos seeds. The ecology enabled the project to come up with new landscape forms.