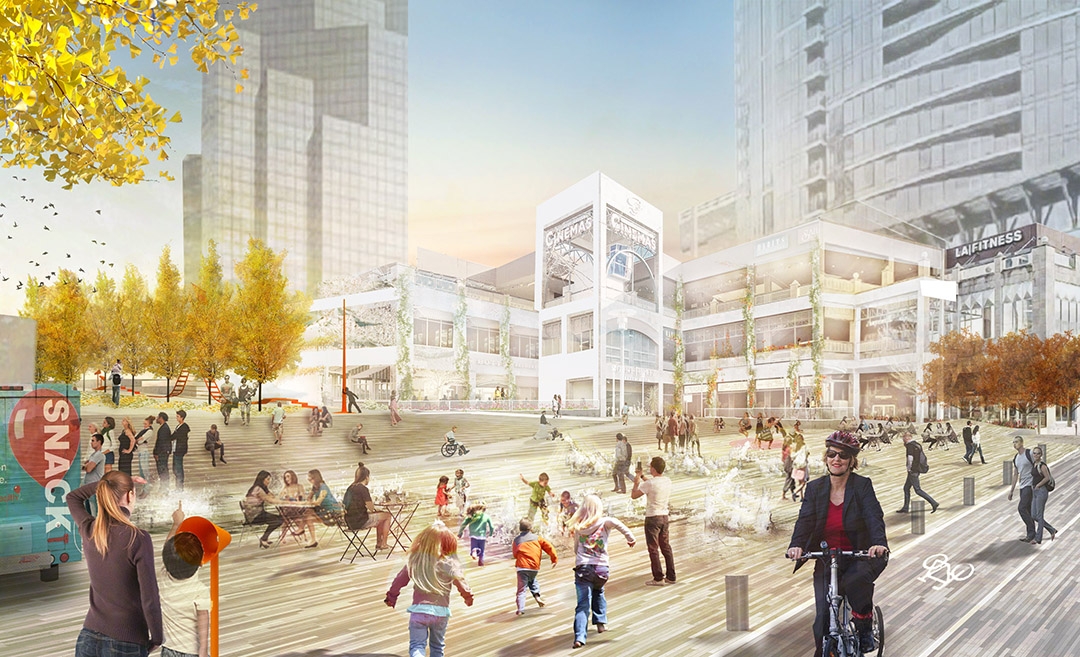 Grand Connection
Bellevue, WA, USA
CLIENT City of Bellevue / SIZE 1.5 miles / STATUS 2017 / DESIGN TEAM Balmori Associates / Mobility in Chain / Herrera / Knippers Helbig
The Grand Connection will provide a sweeping new vision for Bellevue. Envisioned as a signature urban experience and means of connectivity, the Grand Connection will become an identifiable element of Bellevue's urban landscape.
Improved connectivity, urban amenities, and experiences will enhance Bellevue's existing infrastructure within Downtown, while a signature and dynamic crossing over Interstate I-405 will usher in a new era and vision for Bellevue's Wilburton Commercial Area.
As a long-term project, the Grand Connection will also incorporate smaller placemaking improvements that will "claim the corridor" and begin to establish the overall vision. In addition to improving aesthetics and placemaking, the Grand Connection will improve overall connectivity and safety for non-motorized transportation. Building upon the framework of the Pedestrian Corridor plan, the Grand Connection will sculpt and frame a new pedestrian and cyclist environment that embraces the urbanity of Downtown Bellevue.
While the visioning process assisted in establishing an exciting and transformational vision, it also sought to remain pragmatic, understanding the constraints of many places along the route. The visioning process was tasked with developing solutions for both the near and the long-term, creating goals and opportunities as Bellevue grows, while capitalizing on early wins and implementable strategies that are budget and time conscious.
The Grand Connection Visioning Framework Report contains a wide range of improvements for both the near and long term. It considers issues regarding mobility, public space, connectivity, and programming. These major ideas include:
• Distinct and unifying identity for the route
• Cohesive design strategies
• Improved connectivity and mobility
• Improved quality and experience of existing and future public spaces
• Pursuit of innovative and creative means of placemaking to create a unique urban experience
• A signature crossing to reconnect Downtown and the Wilburton Commercial Area
• Successful interfacing of the Interstate 405 crossing with the Eastside Rail Corridor
• Create a shared vision by stakeholders and the public
• Early Implementation Strategies