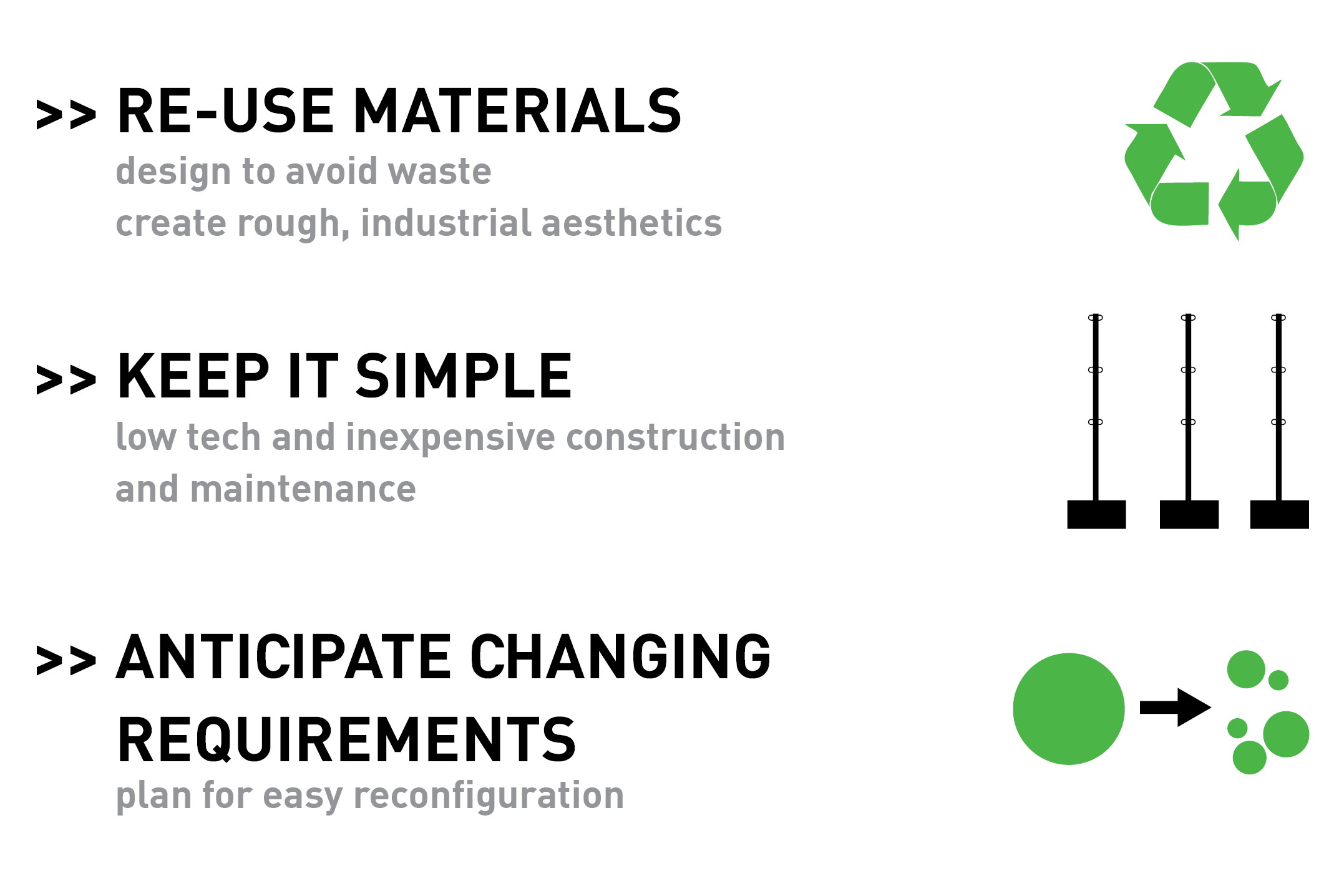 Building an Urban Living Room Come Se Gallery
Rome, Italy
CLIENT Galleria di Architettura "Come Se" / STATUS Design completed in NY in 2009, Exhibition in Rome June/July 2010/ DESIGN TEAM Balmori Associates / Civico Zero & Save the Children
What should a public space be, asked Balmori in an online twitter forum with invited landscape architect Erik de Jong, planner Arnold van der Valk and their 40 Dutch students. We extended the conversation to the Meatpacking District, the neighborhood of our office, by participating in New York festival for contemporary psychogeography, "Conflux City 2009". The ideas we collected on sharable space, urban decorum, and contextual appropriateness were broadcasted in a short video on blogs including the New York Architectural League's Urban Omnibus.
With these ideas we developed design principles for the Urban Living Room:
Re-use materials – design to avoid waste create rough, industrial aesthetics
Keep it simple – Low tech and inexpensive construction and maintenance
Anticipate changing requirements – plan for easy reconfiguration The Urban Living Room is made of simple, inexpensive and interchangeable elements – a base, a pole, a canopy – to perform the functions of planter, shading, space partition, seating, lighting, rainwater collector…and even a birdhouse. Put together, these components create a public place, a space where one can linger, relax, and just be.
In 2010 Balmori Associates took the Urban Living Room to the first edition of Rome Architecture Festival, La Festa dell' Architettura di Roma. Balmori Associates provided the organization "Civico Zero / Save The Children Italia" with guidelines for the construction of an Urban Living Room. The children and adolescents of the association, who recently arrived in Rome from Africa, the Middle East, and Eastern Europe, often homeless, sometime without papers, and who do not speak Italian or English, built their Urban Living Room.
Diagrams of the components indicated Materials a barrel filled with gravels and cement or with soil when used as a planter, galvanized steel poles, rubber mats made from tires for the seats, and sail cloth for the canopy and partition. But materials on hand in Rome were different from the ones originally selected for the New York City project: the barrel was replaced by cars and trucks' wheels, the poles were orange PVC construction pipes, and the canopy and lightshade were made from an olive collecting net. Hosted by the Architecture Gallery, Come Se, the Urban Living Room opened in June 2010 accompanied by photographs telling the story of the construction of the Urban Living Room taken by one of the adolescents of Save The Children, the young Ivoirian, Mohamed Keita.